---

---
---
Hi there Cal Torter--
There's a lot going on this month: menu specials to choose from, medical conditions to discuss (a murmur goes through the crowd), and free chips and queso to give out. You'll just have to keep reading to find out.
Enjoy.
xoxo,
Pam aka Queen of Burritos
Help us choose our next menu special from a list of 8 and YOU could win a catering party for 20 as well as a big screen TV. (Has anyone noticed that we give away a lot of big screen TVs? Where are we getting them?)
Here's how the Elito 8 works:
8 menu items (teams) are battling it out for the ultimate prize—a coveted spot as California Tortilla's new menu special—and your votes will determine the champion. And let me tell you, these menu items are the BEST. You'll want them all.
Vote once a day for each game and pass it on to friends to ensure your favorite team comes out on top. For each vote, you'll get one entry to win the grand prize. Voting has already begun but there's still time. The Elito 8 runs through Friday, April 5th.
Click here to join the madness and check out the teams.
Vote now and you could take home the trophy…

Because you have to pay a lot of cheese on Monday, April 15th, we're giving anyone who makes a purchase that day and says "1040" FREE Chips and Queso. Get it? Free cheese because you have to pay cheese. It's a play on words! (I hate plays on words. You'd think I love them, wouldn't you?)
So stop on by and let us treat you this tax day. It's the least we can do.
SO THAT'S WHAT IT'S CALLED...
Feeling out of sorts lately but you don't know why? We think we may have the answer. After many complicated lab experiments (much of it involving your DNA), we've identified certain medical conditions that can occur from eating at California Tortilla.
So without further ado, here are just a few of the things that we think may be throwing you off your game:
Overboard Brownie Behavior: This is the compulsion to go through each and every brownie several times over to make sure you've got the biggest, most chocolatey one; thus making all the remaining brownies warm and mushy for the next person.
Ticket Out of Order Panic Disorder: This is the panicky feeling you get when a ticket number higher than yours is called and you're sure that since we've already gone past your number, we'll refuse to give you your order, even though you've paid for it.
Scary Dairy Distress: This is the fear that, instead of making an item with "no sour cream" as requested, the diabolical spunky cashier will push a button that says, "Make with extra sour cream and then roll the entire meal in a light layer of sour cream."
Post Promotion Stress Syndrome: This is the horrifying realization that, after practicing for weeks for one of Cal Tort's "Do a dance and get a free taco" promotions, you've just done the hula in front of the entire restaurant on the wrong day.
Burrito Regretito: This is what you experience when you realize you've been shouting very specific instructions at the line cook on how to make a burrito that isn't yours.
Recognize yourself? I knew it! Now you can seek the help you need from professionals who'll have no idea what you're talking about.
AND FINALLY, GET IT WHILE YOU CAN
As you just read, the Bacon Chicken Club Burrito is soon moving out of the top spot, but there's still time to order it. Hurry!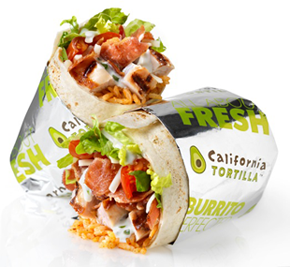 ---
---
If you have any questions about your Burrito Elito card, please e-mail

[email protected]

.
*Catering, gift card, and point purchases are exempt from the Burrito Elito program.

California Tortilla World Headquarters - 20 Courthouse Sq. Suite 206 - Rockville, MD 20850
Phone: (301) 545-0035 Fax: (301)545-0051
Click here to unsubscribe from this message