---

---
---
Hi there Cal Torter –
Enjoy your latest Taco Talk. And make sure to stop by for your Cinco de Mayo taco coupon! She says, hoping to whip you into a frenzy.
See you here…
Xoxo,
Pam
Queen of Burritos
IT'S A DOUBLE PROMOTION

Cinco de Mayo's right around the corner. And because it falls on a Saturday this year, we're celebrating on Cinco AND Cuatro de Mayo. That's right—if you make any purchase at California Tortilla on Friday, May 4th or Saturday, May 5th, we'll give you a free taco coupon that can be redeemed anytime between May 6th and May 15th. (Hopefully you've got a head for dates.)
Cinco de Mayo is our favorite holiday at California Tortilla and we're making it a 2 day extravaganza this year. So stop on by on May 4th or 5th and get a coupon for a free and fabulous taco!
*One coupon per spunky customer.
WHAT ARE YOU WAITING FOR?
If you haven't tried our new Caribbean Mango Burrito or Caribbean Mango Salad, you've got to try them. They're SO delicious. I eat the salad every single day. Every single day. I'm telling you—it's that's good. And look—a handy picture and description…
Caribbean Mango Burrito: Mexican Rice, Black Beans, Blackened Chicken, Caribbean, Mango Sauce, Mango Salsa and Crisp Romaine Lettuce. Small: $6.49 Regular/Bowl: $7.29
Caribbean Mango Salad: Fresh Salad Mix, Blackened Chicken, Mango Salsa, Hass Avocado Slices, Crunchy Tortilla Strips, Juicy Roma Tomatoes, Fresh Cilantro and Caribbean Mango Sauce. $7.99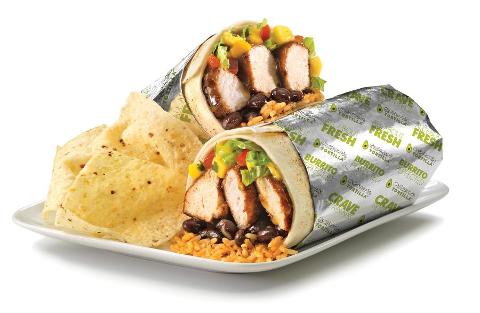 THIS JUST IN
Mother's Day is almost here and a very funny conversation that I had with some of my friends recently got me to thinking about how different it is being a mother now than it was when I was a kid. And while your experience might have been different, I'd like to share just a few of my childhood mother memories. Ready?
WHEN I WAS A KID…
My mother didn't make us wear seatbelts. She let us bounce around the car unfettered – and if need be, whipped out her Mom Arm to stop us from flying through the windshield. (My husband said that sometimes his mother let him lie on the dashboard. I think that might have been a little excessive, even for those days.)
In elementary school, my mother let me make Jiffy Pop by myself. If you're not familiar with Jiffy Pop, you cooked it over an open flame and shook it with a metal, heat-conducting handle. Woo-hoo!
When I got home from school, my mother made me go directly outdoors with the warning, "Don't come home until supper." (I once sold all the vegetables from our neighbor's garden without telling them. She paid closer attention after that.)
Looking back, my mom was nothing if not fun. And now that I'm a mother I appreciate her more than ever. So do me a favor and give your mom an extra hug (or better yet, a Caribbean Mango Salad) for me on Mother's Day—she deserves it. And if you have any childhood memories of your mother (or father!) that you'd like to share, please email me at [email protected]. I'd love to hear them.
AND FINALLY...
If you've got an event that's coming up sometime soon (oh, say something like Cinco de Mayo or Mother's Day) and you need some delicious yet reasonable food, we'd love to cater it. Just call 1-855-CALTORT (1-855-225-8678) and speak to Melissa, our catering specialist. She'll do all the work and you'll get all the credit. And really, isn't that what it's all about?

On that note, Happy Mother's Day AND Cinco de Mayo!
---
---
If you have any questions about your Burrito Elito card, please e-mail

[email protected]

.
*Catering, gift card, and point purchases are exempt from the Burrito Elito program.

California Tortilla World Headquarters - 20 Courthouse Sq. Suite 206 - Rockville, MD 20850
Phone: (301) 545-0035 Fax: (301)545-0051
Click here to unsubscribe from this message