---

---
---
Hi There Cal Torter –
Enjoy your February Taco Talk!
xoxo,
Pam
P.S. There's still time to order for the big game this Sunday (but not much--what are you waiting for?). Melissa, our lovely catering specialist, is standing by, ready to take last minute orders. Just call 1-855-225-8678 and tell her Pam sent you.
And as I do every year at this time, I'd like to share with you my keen, completely biased observations on the differences between how men act when they're in a Cal Tort and how women act when they're in a Cal Tort. Ready?
A woman will never look at the Wall of Flame and wonder what it would be like to drink it all.
A man will pay for his entire meal with the money in the change cup; a woman will run home for a penny. (In all fairness to men, they're generally the ones putting the money in the change cup. Women need to save their change to cut down on the running.)
A woman will rarely use her eating utensils for personal grooming. (This was actually submitted by a female customer. I like that apparently she uses her utensils for personal grooming, just not that often.)
A woman will gently explain to her 5 year old that his teachers will not be giving him a pet bunny as a present tomorrow; he must have heard them wrong. A man on the other hand will suggest names for the bunny, talk about how much fun the bunny will be and generally make big plans for the bunny and the soon-to-be-crestfallen 5 year old. (Whoops! That's from my personal list.)
So there you have it, folks. If you have your own completely biased gender differences you'd like to share (or stories you'd like to share about your significant other but don't have the vehicle to do so), I'd love to hear them. I'll print the best ones in just one short year from now and reward you with a free burrito - immediately. Just email me at [email protected].
HOW SWEET IT IS...
On Valentine's Day this year, Thursday, February 14th, we're giving anyone who purchases an entree a fabulous treat.* And normally I wouldn't tell you what the treat is, just to be wily, but this time I'm going to tell you because I absolutely love it. It's a chocolate tortilla that's filled with banana chunks, milk chocolate and a marshmallow and then deep fried. I can't even begin to tell you how delicious it is. (I actually could begin to tell you, but I fear it would put you to sleep. Taco Talk does just fine in that department on its own.)
So come on in Valentine's Day and woo your sweetie with a free treat! Who doesn't like it when their date doesn't spend money on them on Valentine's Day?
*What's this delicious thing called? Our Facebook fans have offered hundreds of suggestions and we have narrowed it down to 5 choices. All you have to do is cast your vote

here

by February 5th and the person whose suggestion wins will receive free burritos for a year! And hopefully share them with you.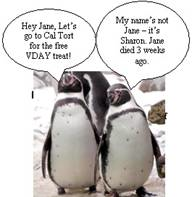 I know that I've used this cartoon before, but I had to use it again because I like everything about it: I like that the one penguin is excited about a non-fish Valentine's Day treat, I like the thought of penguins eating at California Tortilla and I like that Sharon didn't find it necessary to tell the other penguin what her name was before holding flippers with him.
AND SAVING THE BEST FOR LAST...
The Bacon Chicken Club Burrito is back and it's FLYING out the door! It's got grilled chicken breast, Monterey Jack cheese, smoky hardwood bacon, Roma tomatoes, romaine lettuce and Mexican rice, all topped with jalapeno ranch and wrapped in a soft flour tortilla. So good.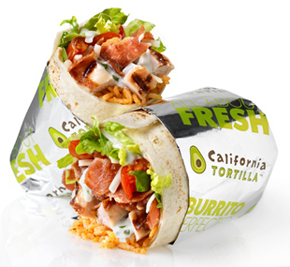 ON THAT NOTE, HAPPY VALENTINE'S DAY!
---
---
If you have any questions about your Burrito Elito card, please e-mail

[email protected]

.
*Catering, gift card, and point purchases are exempt from the Burrito Elito program.

California Tortilla World Headquarters - 20 Courthouse Sq. Suite 206 - Rockville, MD 20850
Phone: (301) 545-0035 Fax: (301)545-0051
Click here to unsubscribe from this message